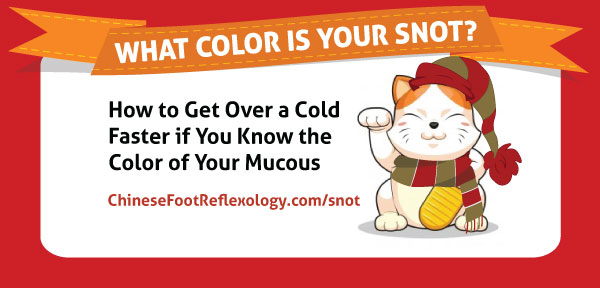 In Traditional Chinese Medicine, the color of your snot is a critical factor in diagnosing and treating the common cold. If you get the diagnosis wrong, you could actually prolong a cold by consuming the wrong herbs, foods and drinks.
I'm proud and delighted to present my first ever infographic on, "What Color Is Your Snot?" It was uber-fun to make and I hope you'll learn some useful facts too.
Check it out to discover the important difference between white phlegm vs. yellow phlegm, Wind Cold vs. Wind Heat, and how you can use this information to recover from a cold faster.
Spread the Word, Not the Germs!
If you found this infographic fun and informative, please share it on Facebook, Twitter or Pinterest using the buttons below. Thank you for helping me get the word out on natural healing :).
Warmest Wishes (and a warm scarf and hat too),
Holly