If you've ever wondered whether you can practice Chinese Reflexology on children, the answer is YES! It's easy to do and it can make a world of difference.
Read Martie's story on how Chinese Reflexology helped her family get over the stomach flu FAST. And remember to bookmark this page for future reference so you can use it in a pinch for a healthy and happy family!
I started this blog several years ago because I invented a cold remedy routine for using Chinese Reflexology to get over a cold fast. At the time, my son was a toddler, and I had caught a really bad cold. Combining my knowledge of Chinese Reflexology with Traditional Chinese Medicine, I came up with a short five-minute reflexology routine that had me feeling better almost instantly.
This routine worked so well that I shared it with all of the moms I knew. They LOVED it!
Back then, I belonged to a stay-at-home mom's club. I still keep in touch with some of the women from the group, including Martie Wynn.
Martie is a mom to two kids, and she also runs TWO businesses. She's a successful real estate agent in the very competitive San Francisco Bay Area, and she's also a Lifestyle Entrepreneur at Beauty Inside & Out.
She does an admirable job of balancing her work and family while pursuing her passions and making a difference in people's lives.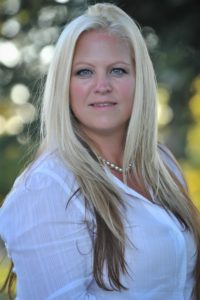 In her words, "I love being an entrepreneur as it allows me to focus on my passions, provides the freedom to be with my children and empowers me to create a full life. I am driving to creating opportunities and resources to empower others to improve their lives — especially during some of the biggest and most sensitive times.
Whether it is buying your first home, fueling your body, and your dreams, with the very best nutrition or achieving beautiful, flawless skin. The best investment you can make is yourself. Be the best version of you."
It's definitely a balancing act to run a business while being a full-time mom, and if your kid gets sick, everything comes to a screeching halt. So when I saw Martie's post on Facebook that both of her kids were sidelined by a nasty stomach virus, I knew I had to reach out to her.
As soon as I read the word "vomit" in her post, it brought to mind my article on, Chinese Reflexology Points for Stomach Flu, Vomiting, and Dizziness in Children and Adults. A few years ago, my son came down with a stomach bug and was throwing up through the night. I used a combination of Chinese Reflexology points on him and they very quickly helped him stop vomiting. By lunchtime, my son was close to 100% recovered.
I sent the article to Martie and left it up to her to decide whether she wanted to try it or not.
She did.
These two pictures say it all.
1. Before Chinese Reflexology
2. After Chinese Reflexology
A few days later, Martie messaged me to say: "I did exactly what you sent and I think it worked!!! Thank you Thank you!!!"
Empowering people to heal themselves is why I'm so passionate about sharing Chinese Reflexology. It's how this kitchen table blog grew to an enormous online resource of health and wellness articles.
Hearing stories of Chinese Reflexology changing people's lives is what fills my heart and soul. It's what inspired me to write a 70,000-word book on Chinese Reflexology, create two in depth online teaching programs, in addition to self-study guides and other online workshops and webinars,.
Speaking of which, a Chinese Reflexology for Healthy Kids workshop is in the works. This online webinar will be ready for the spring. If you're interested in learning more, sign up for my newsletter to stay abreast of the latest news.
In the meantime, stay healthy. And please share this article with the parents you know. Typing words of support on Facebook is like chicken soup for the soul, but showing parents a way to help their kids get over the stomach flu faster, that's even better.
I really appreciate it when you share articles from my blog. It helps me get word out on Chinese Reflexology. I don't advertise or hire people to promote my website. It's just me here—a one-woman show. The reason why I do this is to keep expenses low. That way I don't have to pay for an expensive team, and this enables me to share lots of free articles and keep the prices as low as possible for my online workshops and programs. Thank you!