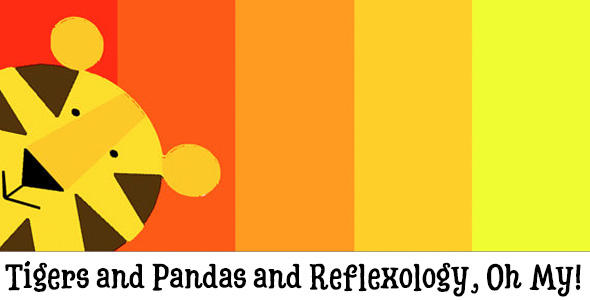 It occurred to me the other day—you could call it an aha moment—that there aren't very many stories on my blog about people who have used Chinese Reflexology for self-healing. Sure, there are A LOT of instructional articles, but where's the human element? (Other than me, of course!)
So I'm starting a new series called, Real People, Real Reflexology, to feature inspiring stories from readers like you. Learn how people all over the world are using Chinese Reflexology to help themselves and their families.
The very first article in this ongoing series features a very impressive woman. She's an artist, mother, business owner, and scientist too. Meet Atabey Sanchez-Haiman.
Like many readers, Atabey found my website through an online search. She and her son had been struggling with cold symptoms for five days.
After taking her son to the doctor, the doctor told her that her son's ears were red, and that he would need antibiotics if there wasn't an improvement over the next couple of days.
Because Atabey prefers natural alternatives to antibiotics whenever possible, she did an online search for alternatives for ear and sinus symptoms. And that's how she came across my website. In her words:
"I loved your visuals and how clearly you explained the process. We immediately started following your instructions for the ears and sinuses. When I first rubbed our feet, we realized how sensitive some points were, which corresponded with our symptoms. That was very encouraging. We didn't do it very hard and just gently massaged these sensitive areas and saw positive results very quickly.
We felt better by the next morning and did it again that night. When I took my son back to the doctor, his ears were healed and he didn't need antibiotics. My symptoms had cleared as well. That is when I decided to write to you and thank you for your wonderful website and great articles."
Atabey has always been intrigued by Chinese Medicine. She even read about it while she was studying neuroscience. She trained as a scientist at Brown University, worked in labs, and taught science for many years. While living in Barcelona, she started painting and became an artist.
A few years ago, she started her own art business called, Giraffes and Robots. She's inspired to create art that makes people smile, and what she calls "an antidote to negativity."
As you can see by the bright and cheerful designs in this article, Atabey's art is happy art. She describes it best, "I steer away from anything sad or violent as I feel the world needs love and healing and the media bombards us with too much negativity. My art is intended to add a pop of color and positivity to any room. I have art for playrooms, bedrooms, kitchens and even bathrooms! I also have a series of inspirational and positive art for classrooms."
Atabey kindly created a panda illustration for this blog to show where to find the Chinese Reflexology Lung point on the foot. There it is! The very first panda reflexology :).
All of the illustrations featured in this article were created by Atabey Sanchez-Haiman, and reprinted with her permission. If you'd like to see more happy art, whimsical critters, and inspiring designs, check out Atabey's creations at www.giraffesandrobots.com.