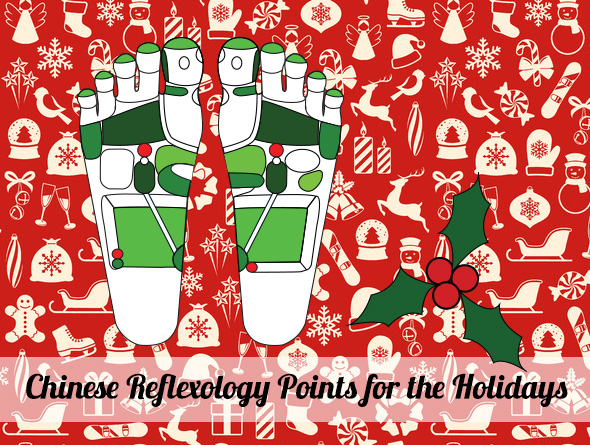 The holidays are a wonderful time to get together with friends and family. However, they can also be super stressful if you're travelling, always on the go, or you're the one organizing or hosting the party! And if you've got kids, it's twice as much fun, but also twice as much work :). LOL!!!
This year, forget about the naughty or nice list. Instead, prep for the holidays by bookmarking The Super Deluxe Mega-List of Chinese Reflexology Points for the Holidays!
With the holiday season in full swing, I've been noticing just how often I use Chinese Reflexology on myself or my son, or share reflexology points with friends and family. Just the other day, my neighbor dropped off a small holiday gift, and she mentioned she had a lingering cough. I told her about the Chinese Reflexology Lung point on the hand that she could massage for a persistent cough.
There are just SO MANY Chinese Reflexology points to help make your life easier during the busy festive season. So I wanted to share some of the most practical and useful points with you.
This includes points for stress, self-care, boosting your immune system to keep you healthy, points for upset tummies, and even points that make air travel more enjoyable. So I've gathered together a mega-list of all of my favorite reflexology points for the holidays.
And rather than give you one big long scrolling list of all of the points, I'm going to give you a quick summary of the points and point you (bad pun intended) to where you can find these points on my website.
Or in other words, if you're reading between the lines, it means I'm super busy (you could also substitute the word "lazy") this holiday season. Happy Holidays!
Here's the Mega-List of Chinese Reflexology Points for the Holidays:
1) Fighting off a Cold
If a cold is whooping your butt, this 5-minute reflexology routine will give you the upper hand. It's like popping open a can of Popeye spinach, without the stringy green bits stuck in your teeth. Many readers have reported getting rid of their cold in a day or two, or heading off a cold altogether.
2) Too Much Turkey (aka cookies, candies, chocolate)
Okay, let's pretend that the kids ate too much turkey instead of too much chocolate, candy and cookies. If your kid gets a tummy ache over the holidays, there's a Chinese Reflexology mini routine to help ease the pain.
And since we're in the bowels of digestion right now, there's another reflexology routine if things get backed up. Let's just call it the #2 routine.
Mega-List of Pointers:

3) Catching a Flight to Visit Relatives
Because airports are filled with so much Christmas cheer, I don't have any reflexology routines for the airport. Snicker. Okay, maybe this one for de-stressing will be helpful while you're waiting for the de-icing of your plane, which happens to cause a de-lay.
You'll also want these handy hand reflexology points for the flight. There's the hand version of the Lung point from the cold remedy routine, and points to help with ear pressure, nausea and airsickness, and keeping the circulation flowing when you're stuck in a cramped seat.
Mega-List of Pointers:

Points for Instant Stress Relief – Here are de points for when de plane de plane is de layed
Points for Flying – Includes hand points for motion sickness, anxiety, ear pain, germ protection, and improving circulation; PLUS you can get a free quick reference chart of de points
Happy Holidays!
Hmm, after typing up the mega-list, it doesn't look like much of a MEGA-list, let alone super deluxe or ultra. Well, I did warn you that I am super busy right now :). And even though there are only three sub-headers in the mega-list, there are links to FIVE different sets of powerful Chinese Reflexology points. These are some of the reflexology points that I use most often.
Have a wonderful holiday season with friends and family. Wishing you amazing health and vitality for 2018 and beyond!
Lots of Love and Light,
Holly