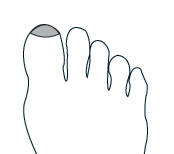 Chinese Reflexology Point #2: The Sinuses

The next point in my reflexology protocol to get rid of a cold fast is the sinus point. If your head is feeling stuffy, especially around your sinuses, this is THE point to massage. There are actually five reflexology points for the sinus on each of your feet, but since I'm probably overloading your brain as it is, let's focus on the main reflexology point for the sinus.
This point is located on the tip of your big toe on the UNDERSIDE of the toe as highlighted in the diagram on this page. I didn't draw in toe pad lines (looked too messy and I was a little too lazy), so it's easy to think that this might be an illustration of the top of your foot. I want to emphasize again, that the sinus point is located on the BOTTOM of your big toe.
As you get to know me, you'll discover that I'm really bad at coming up with metaphors for describing reflexology massage techniques. The first few iterations are usually inappropriate and I need several attempts to come up with something that I can use in a formal class. Since I'm blogging, you won't get the benefit of the best in class metaphor.
So for today, imagine that you're crushing dried oregano between your fingers to sprinkle on a pasta dish. Use your thumb and forefinger to pinch and rub your big toe. Big thumb against the pad of the big toe. Do this for about 30 seconds.
I came up with some other metaphors to describe this technique, but they definitely fall into the inappropriate category. I'll share them with you because they made me laugh and laughter is always good medicine. Hopefully, these metaphors will also help you get a better understanding of the technique.
Inappropriate metaphors on how to rub your sinus reflexology point:
Playing the world's smallest violin
Talking about money, moolah, ca$hola
Giving someone a purple nurple
Rolling a joint (saw it in a movie, never in real life)
Read on for the third reflexology point to help alleviate an achy stiff neck and tame a burning sore throat. Please note that I can't promise there won't be more lame metaphors.
Chinese Reflexology Points to Get Rid of a Cold Fast – Go to page: 1 | 2 | 3 | 4
---
Want a Quick Reference Chart showing you how to locate and massage the Key Chinese Reflexology Points for a Cold?
Simply fill out the form below and you will also receive Chinese Reflexology foot charts, free mini lessons and my complimentary monthly newsletter. It's a fun way to learn self-healing tips and techniques for the body, mind and spirit.
Can't see the form? Click here