It's rather ironic that the day I finish writing this series of posts on how to get rid of a cold fast, the weather has gone from dreary, rainy and windy to brilliant sunshine and 80 degrees Fahrenheit.  No worries though, it's dropping 20 degrees again in two days, so I'm sure someone will come down with a cold.
Note: that was a joke.  I write as straight-faced as I deliver some of these lines in person. It's gotten me into trouble before, but that's a whole other story.
Chinese Reflexology Point #4: Throat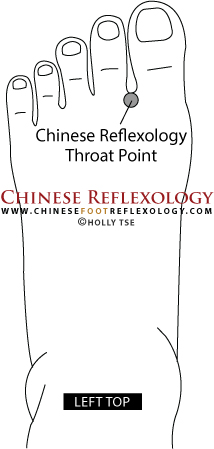 I'd like to introduce you to another reflexology point for a sore throat. Similar to how you combine vitamins to strengthen their effectiveness, massaging the throat reflex point in addition to the tonsil/throat point really helps turbocharge the clearing of energy in the throat, neck, and cervical (fancy way to say "neck") lymph nodes.  In other words, get rid of a sore throat faster.
The throat point is very easy to locate.  It's right at the tip of the webbing between your big toe and the second toe.  Use the knuckle of your index finger to massage this point with a digging and twisting motion.  Remember the doorknob jiggling metaphor in Part 3 of this article?
To truly experience this point in its full glory, use your other hand to gently hold the two toes together while you rub this point.  Massage for about 20 seconds.
Chinese Reflexology Point #5: Lymph Drainage
Here's the last reflexology point that can help you get rid of a cold faster.  It's the lymph drainage point for your armpits.  When your pits are sweaty, your body is actually cleaning house.
The lymphatic system is the overlooked and underappreciated worker in your body.  While your heart and blood vessels are grabbing the limelight, the lymphatic system is diligently transporting white blood cells throughout your body and clearing out waste materials.

Your heart pumps the blood through your circulatory system, but the only way lymph fluid gets moved around is when YOU move around.  It's no wonder that most people find this reflexology point is very painful with even the slightest pressure.
Case in point.  How long have you been sitting here in front of your computer without moving?  Massaging this point will give your lymphatic system a great energy boost and writhing in pain will also help move lymph fluid through your body.
This reflexology point is located in the webbing between the bones of your big toe and second toe.  To massage this point, use the knuckle of your index finger.  Press as hard as you can tolerate from the base of your toes towards the point of the V that's formed where the bones meet.
Lift up your knuckle and place it back at the base of your toes and stroke downwards again.  Repeat for 30 strokes.
A Final Note
When you start feeling better, you'll be tempted to quit since the massage is rather uncomfortable.  Also, you'll feel so good, that you'll stop babying yourself and want to jump right back into things at full force.  I mention this because I've been guilty of this myself.
Guess what happens when you slack off and push yourself?  Your cold comes back.  I felt awesome, then stopped reflexing, stayed up past midnight a few nights, ate takeout pizza for dinner and then started to feel sick again.  I immediately began rubbing my feet again and made sure to keep at it for a few days.  The cold was gone for good this time.
Everybody's body is different so I can't guarantee what results you'll see.  I'd love to hear your comments and feedback.  And if you find this post has helped you get over a cold, please share it with a friend.  Thank you.
Chinese Reflexology Points to Get Rid of a Cold Fast – Go to page: 1 | 2 | 3 | 4
---
Want a Quick Reference Chart showing you how to locate and massage the Key Chinese Reflexology Points for a Cold?
Simply fill out the form below and you will also receive Chinese Reflexology foot charts, free mini lessons and my complimentary monthly newsletter. It's a fun way to learn self-healing tips and techniques for the body, mind and spirit.

Can't see the form? Click here