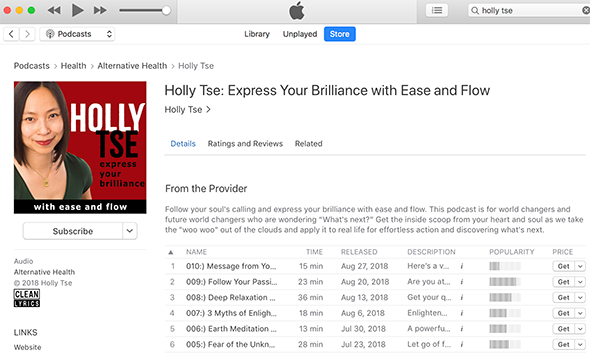 A couple of weeks ago I wrote about my new podcast that helps you clear and release negative emotions so that you have more ease and flow in your life and your body.
Holly Tse: Express Your Brilliance with Ease and Flow was launched without much fanfare—just a simple mention in my newsletter and on Facebook.
I have just one word: WOW
I'm amazed at the response. At the end of June, I secretly launched a podcast. I didn't tell anyone about it for several weeks. And if you're curious to learn why, you can click the link to read the backstory. You'll want to read this if you're facing a crossroads and scared to take the leap in a new direction.
Anyhow, I finally got over my fear—well not really. Perhaps the better phrase is that I headed for my fear and acted in spite of my fear. The results are phenomenal. In just a few short weeks, I went from 17 downloads in a month to over 2,000 in one week!
It just goes to show that when you listen to your heart and follow through even if you're afraid, the Universe has got your back and will support you on your soul-aligned path.
What amazes me even more is the international reach of my podcast. To date, it's been downloaded in over 50 countries all over the world.
In my previous article, I listed a selection of podcast episodes that were especially beneficial for your health. But because of the overwhelming positive response, I wanted to share the rest of the episodes too. Come to think of it, they're all related—sometimes indirectly—to your health and well-being. Here they are. Enjoy!
Episode 002:) A Simple Shift to Get What You Want in Life
Do you ever think there's got to be an easier way to get what you want in life? Sometimes life feels like a struggle where you take two steps forward and one step back. Or maybe there are some areas of your life where everything is amazing, but other areas where you feel you'll never get ahead.
Why is that? The answer will surprise you because it has nothing to do with how smart you are, how hard you work, or even how well prepared you are. Tune in for simplicity.
Episode 004:) How to Create a Successful Soulful Business with Ease and Flow – Finding Your Audience #hollybiz
This episode is a show within a show with a focus on growing a soul-aligned business with authenticity and integrity. This particular episode is for you if you're a new entrepreneur seeking clarity on your target audience and what your business is all about.
Why a show within a show? Because entrepreneurship is one of the ways you can express your brilliance. And also because there's a load of bunk out there that takes you away from your true calling. Trust your instincts. They'll guide you to more ease and flow.
For more episodes like this, look for #hollybiz.
007:) 3 Myths of Enlightenment – Revealing the Truth to Set You Free
Enlightenment is closer than you think. Be enlightened about the three myths of enlightenment. Too often, we struggle because we think enlightenment has to be a certain way. It involves struggle and sacrifice, but nothing could be further from the truth because…
The truth will set you free.
Episode 010:) Message from Your Soul: What Your Soul Wants You to Remember
Here's a very important message that your soul would like you to hear today. Soul guidance for living your life with more ease and flow.
Episode 9?
Some of my astute readers may have noticed that Episode 9 is missing from these lists. Hehe, that one is so transformative, it deserves its own special blog entry. If you can't wait and you've got iTunes or the Podcast app on your phone/iPad, you can find it by searching for "Holly Tse."
More Episodes
A new episode will be released each week on Monday. You can find the entire catalogue of episodes on my podcast website, HollyTse.com, and also on iTunes. Check Apple's Podcasts on your iPhone or iPad, and search for "Holly Tse". If you enjoy the show, please subscribe on the Podcasts or iTunes app, leave a review, share with friends, or all of the above. It really helps get the word out on my podcast. As a full-time mom, I appreciate your support in spreading the word. The Universe works its magic through you!
Thank you!
Holly Tse (The meaning of my surname in Chinese is literally "Thanks")
P.S. Here's a little inside trivia for you. I use ":)" after the episode number because it's a smiley face! 🙂